Gorgeous Ponytail Wedding Hairstyles
If you are looking for a wedding hairstyle, your first thought might be to wear your hair down or in an updo. However, there is another option that has been seeing a lot of popularity lately- the ponytail. You will find lots of cute and creative ideas on how to style this look below.
Ponytails can be worn up high on the head or low at the nape of the neck like you would with any other daytime hairstyle. If you want something more formal yet still casual, try braiding multiple strands together into one thick braid that hangs down over one shoulder. This style can also make an impactful entrance if done while walking up the aisle.
Do you have a wedding coming up? Want to try something different with your hair and not put it in an updo or braid? Try one of our favorite ponytail hairstyles for your special day. The first is the easy half-up, half-down look that's perfect for second looks at the reception. For something more complicated, try this braided fishtail style that will hold all night long.
Different types of ponytail hairstyles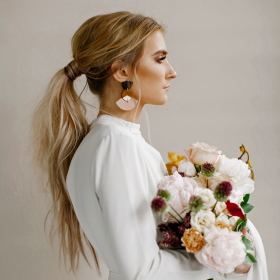 It's important to know what type of hair you have, the best way to style your hair in a ponytail, and the correct length for each type of hair. Ponytails come in many shapes and sizes, so it is essential to find one that suits you personally. There are no rules on how long or short they should be, but if your goal is a low-key look, I recommend keeping it below shoulder length because anything past that can get bulky. Different hairdos require different lengths, so consider what kind of look you're going for when deciding on the perfect ponytail.
Ponytails are a classic hairstyle, and they come in many different styles. You can make your ponytail look like you just got out of the gym or go for something more elegant. The key to having a good-looking ponytail is finding one that suits your face shape and hair type. Here are some tips on how to choose the right style for your hair:
If you have curly hair, try braiding it into two separate braids before putting them up in a ponytail so that it doesn't get frizzy from being pulled tightly back.
If you have long straight hair, try putting it into an updo with loose waves for an elegant look.
Which haircut looks best in a ponytail?
A woman's hair is her crowning glory, and she needs to take care of it. So what should you do when your hair is too long for a ponytail? You can cut off the excess length or try different ways to tie it up. We have a list of hairstyles that are perfect for wearing in a ponytail and pictures of each style for reference.
What haircut looks best in a ponytail? The answer all depends on what type of look you're going for! Curly girls might want an updo or braided bun, while straight-haired ladies may prefer something sleek like this layered bob with bangs.
Some women would argue that their current hairstyle can't be pulled back into a ponytail because it doesn't have enough length or volume. Others say they want to try out something new with their hairstyle and think adding an undercut is the way to go. What do you guys think? Do you like your haircut better, up or down? Let me know!